order/fire is happy to announce that we will be having a premiere party for the release of our first episode! Featuring Chef Clark Barlowe, the fist episode will be showing at Free Range Brewery on Sunday November 1st! We will have live music from the Loose Lugnuts and if you're on of the first 100 people to arrive, your first beer is on Asterisk Creative! Come on! How much fun does this sound like?! A Sunday Funday to remember!
After the release of Episode #1, we will be on a 3 week cycle, releasing a new episode every 3 weeks. Keep checking back for more information!
We'd like to give a big shout out of thanks to Wendy Shanahan and Joel Tracey from Asterisk Creative for all of their help and continued support!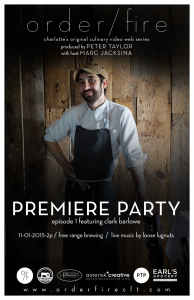 #charlotterising